Equipments
We use many equipments applicable to various research fields. We can also use equipments in Kagami Memorial Research Institute for Materials Science and Technology (in-plane XRD, 2D XRD, SAXS etc.), Materials Characterization Central Laboratory (Liquid- and Solid-state NMR, ESI-MS, FAB-MS, MALDI-TOF-MS, AFM, CHN, Single crystal XRD, etc.) and Enviromental Safety Center (GC-MS, ICP-OES, ICP-MS, etc.).
Microscopes
HR-SEM
HITACHI S-5500
S-5500 is a general scanning electron microscope with an in-lens type objective lens. It has high resolution and can observe mesopores as small as several nanometers. Elemental characterization and mapping are also available with the attached EDX system.

Optical Microscope
OLYMPUS BX51
BX51 is available for bright-field, dark-field, polarized light, and differential interference observation. It is mainly used for structural analysis of lyotropic liquid crystals used as templates and observation of cracks in thin films.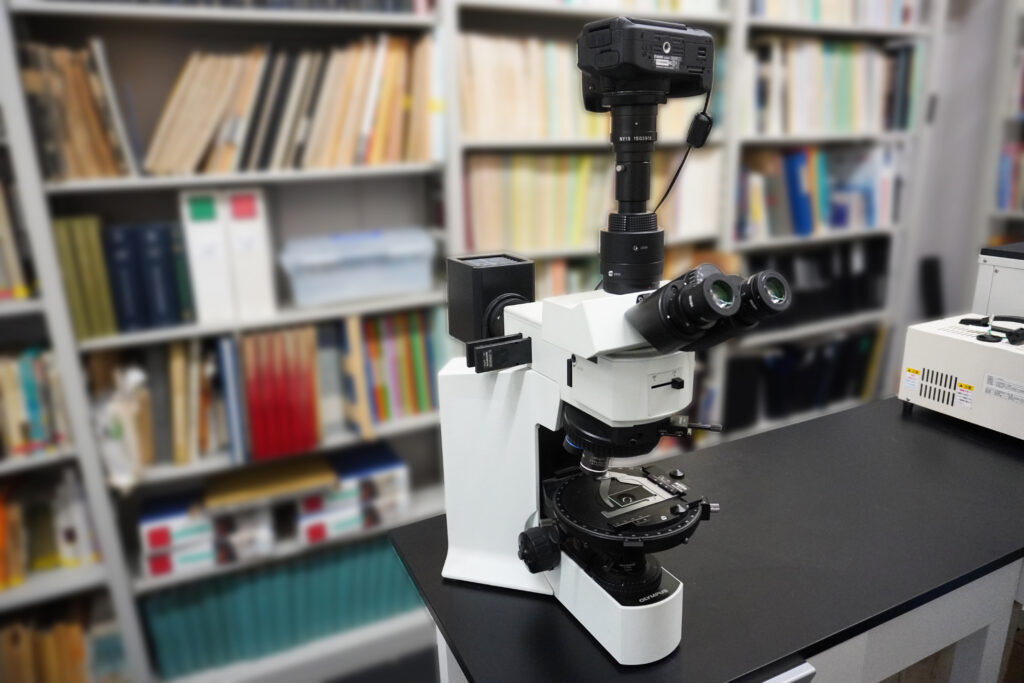 ---
Equipments
Vacuum Line
Vacuum line is an indispensable instrument for using compounds unstable in air. A high vacuum line equipped with an oil diffusion pump is also installed. It is also connected to nitrogen and argon gas, allowing vacuum nitrogen (argon) displacement. 10 vacuum lines are in operation.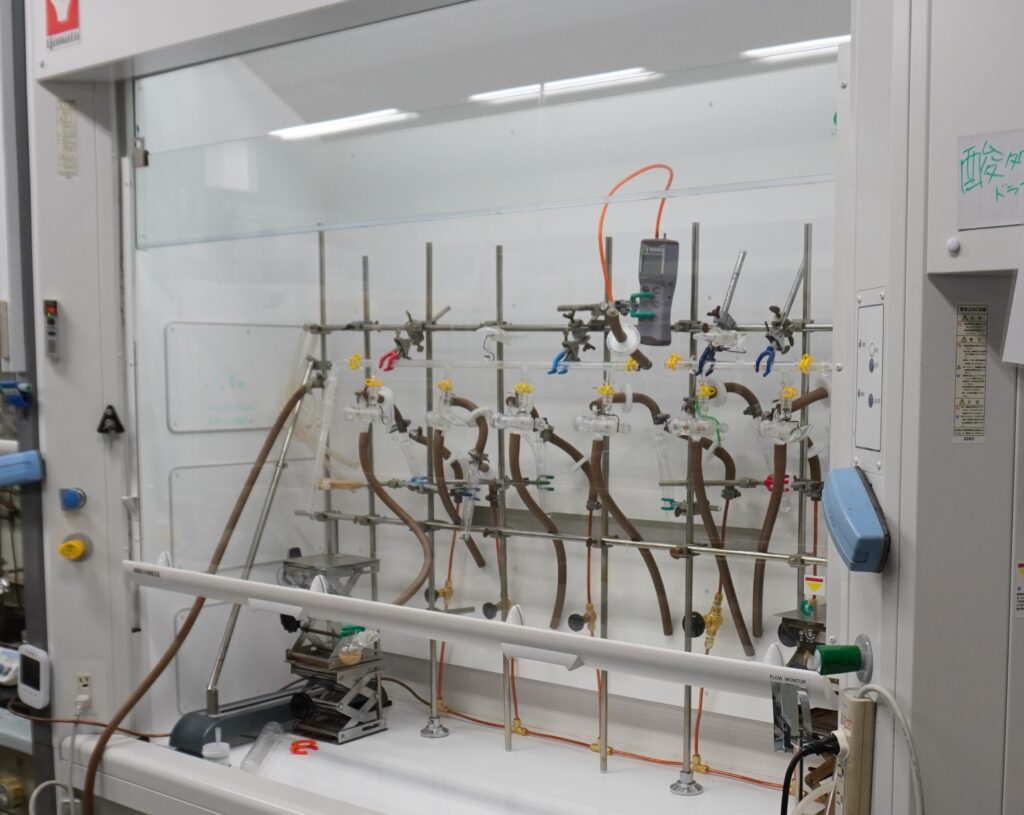 ---
Rotary Evaporator
EYELA N-1100
N-1100 is used for sample concentration and removal of organic solvents. 3 rotary evaporators are in operation.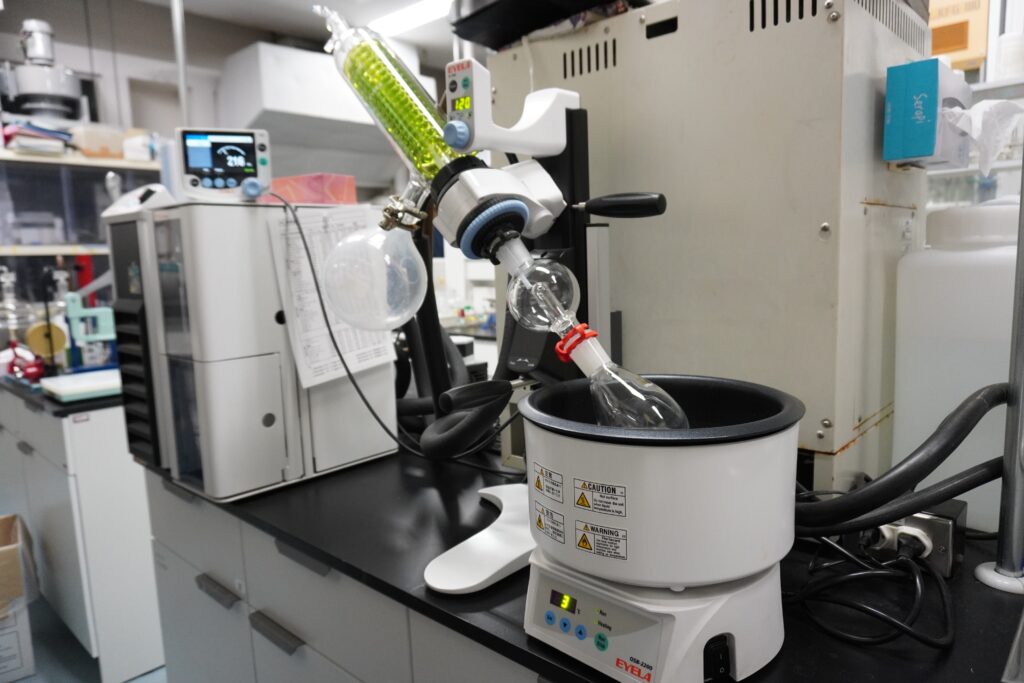 ---
GPC
JAI LC-9104, LC-9110 NEXT, LC-NET II
In addition to calculating the molecular weight distribution and molecular weight of polymers, it is possible to separate and purify target materials based on differences in apparent molecular size. Automatic operation is also available。CHCl3 or THF is used as the expansion solvent.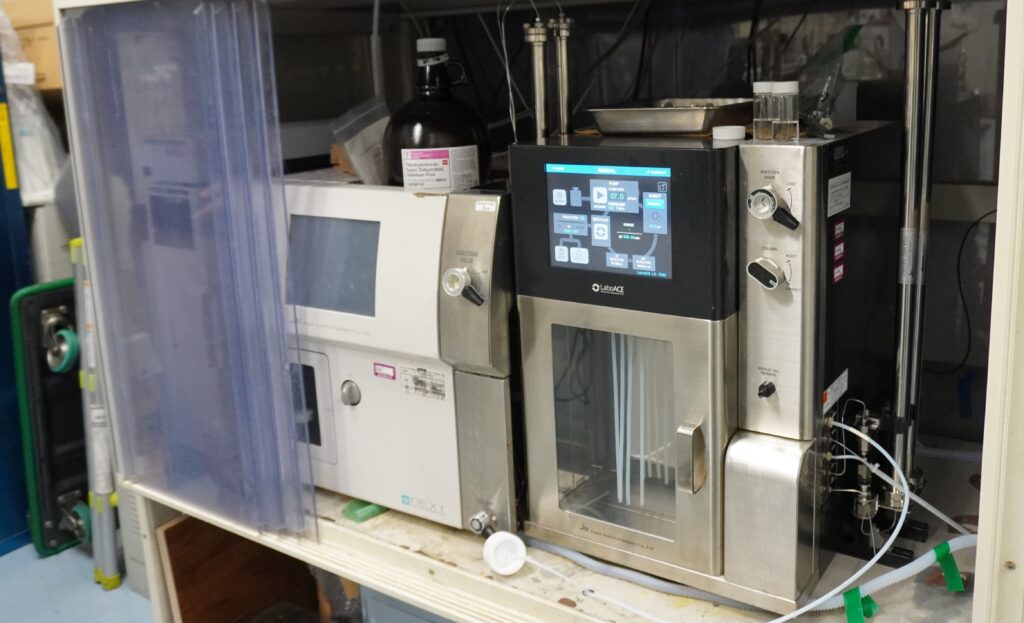 ---
High-Speed Centrifuge
HITACHI himac CR16RN
Centrifugal forces of several tens of thousands of G enable the separation of minute substances. The separation can also be carried out at low temperatures in the system by cooling functions.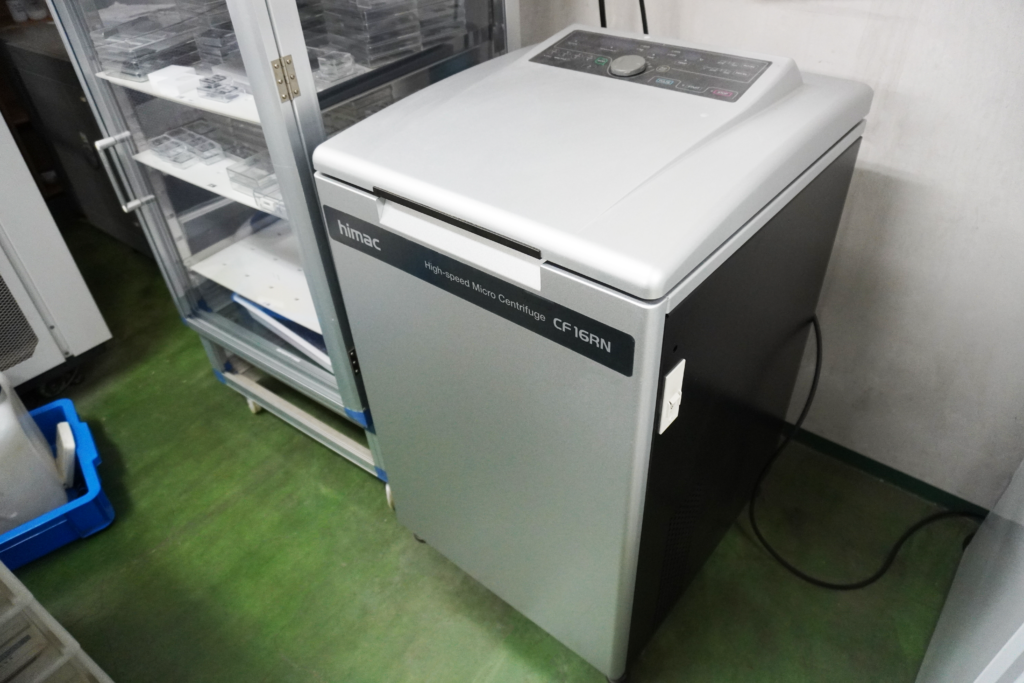 ---
Spin Coater
OSHIGANE SC-300
Thin films can be produced by rotating the substrate while fixing with a vacuum pump. Rotation can be divided into two phases, in each phase the speed (0-6000 rpm) and rotation time are settable.


---
Electric Furnace
YAMATO F0310, F0310, F0100
Electric furnaces are used for melting metals, sintering powders, chemical analysis and other combustion tests. The desired temperature is settable by entering a program, such as the rate of temperature increase.


---
Constant Temperature and Humidity Room
ORION PAP10A-K
Small room with controllable temperature and humidity. It is useful for experiments with good reproducibility (controllable range: 18-30 °C, 45-75% RH).


---
Constant Temperature and Humidity Oven
ESPEC SH-221, SH-222
Benchtop type apparatus with controllable temperature and humidity (controllable range:−20-150 °C, 30-95% RH).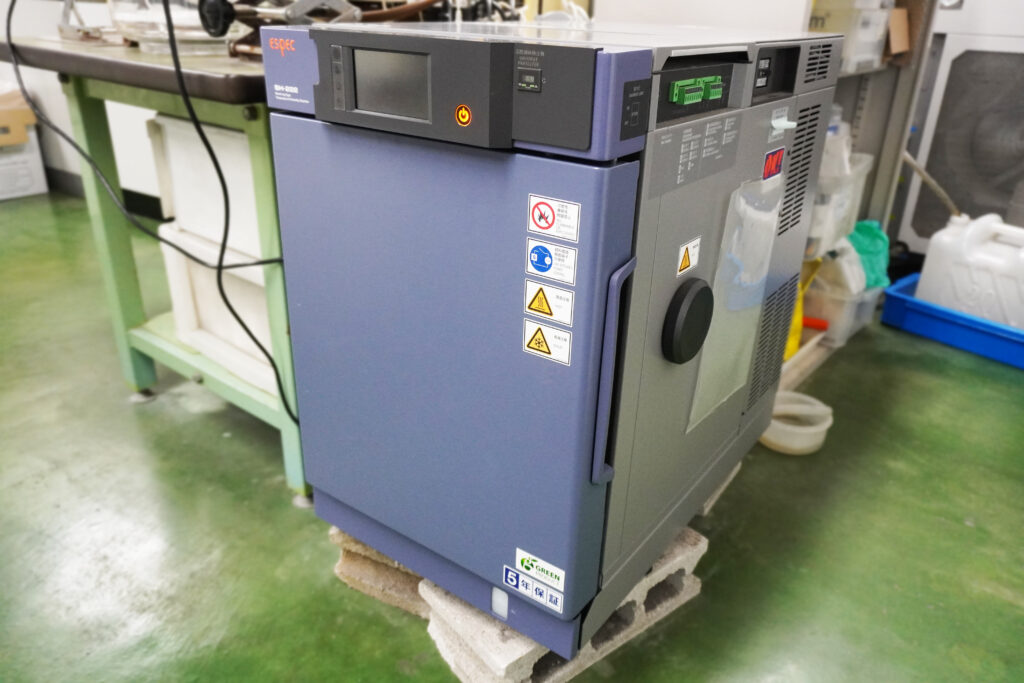 ---
Freeze-dry System
EYELA FD-5N
Samples that decompose or change morphology by heat drying can be dried non-destructively using sublimation of water.


---
XRD (Cu)
Rigaku RINT-Ultima III
The crystalline phase is identified by irradiating the sample with X-rays and measuring the diffraction angle.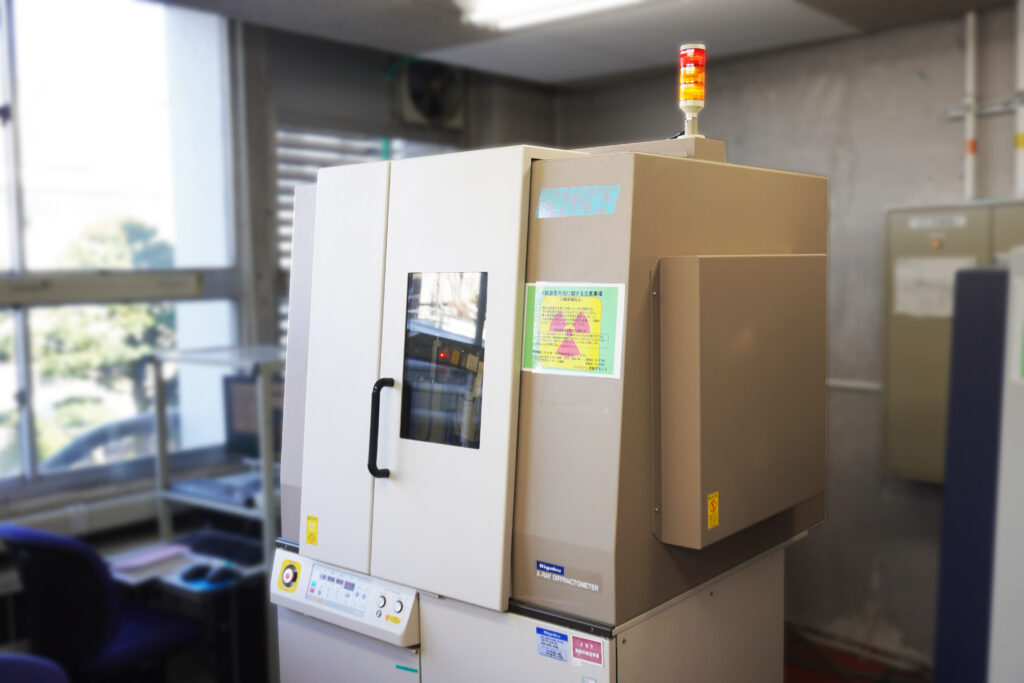 ---
XRD (Fe)
Rigaku Ultima IV
Ultima IV is suitable for analysing profiles on the lower angle region. By using FeKα which has a longer wavelength than CuKα, the peak positions are detected at higher angles.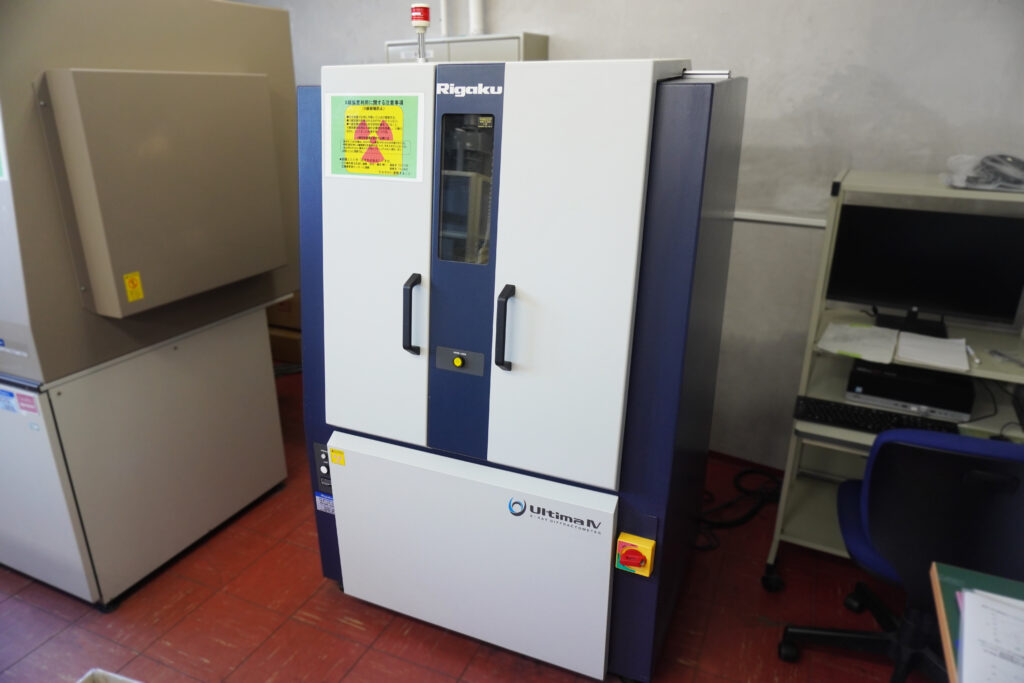 ---
Spectrometers
FT-IR
JASCO FT/IR-6100
FT/IR-6100 measures the absorption of light at wavelengths in the infrared region and is used to identify functional groups in compounds. Near-infrared observation and autosampler function are also available.


---
UV-Vis
JASCO V-660
V-660 measures the absorption of light in the UV-vis region (wavelengths : 200-900 nm). Diffuse reflection measurements are also available by replacing the Integrating sphere.


---
Fluorometer
HITACHI F-4500
F-4500 measures the luminescence phenomenon of compounds when irradiated with UV-vis light. Thermostatic cell holder is available.



---
DLS
HORIBA nano Partica SZ-100S
SZ-100S measures light scattering by particles in solution and is mainly used to calculate the particle size (1-6 µm) of fine particles by dynamic light scattering. Molecular weight is also measured using static light scattering.

---
Zeta Potential Measurement
OTSUKA ELECTRONICS ELSZ-2
The surface charge can be indirectly estimated by applying an electric field to charged particles. The zeta-potential can also be used as an index of the dispersion stability.


---
Thermophysical Properties
TPD
BEL JAPAN BELCAT-A-SP
Absorbed substances on the material is desorbed by heating and analyze emerged gases. Thin films of adsorbed substances, material surface and internal states can be analyzed.


---
TG-DTA
Rigaku Thermo Plus EV02
EV02 is used to obtain information on the temperature and quantity of adsorbed and organic substances with regard to their combustion. by combining information on weight loss and exothermic/endothermic changes during temperature change.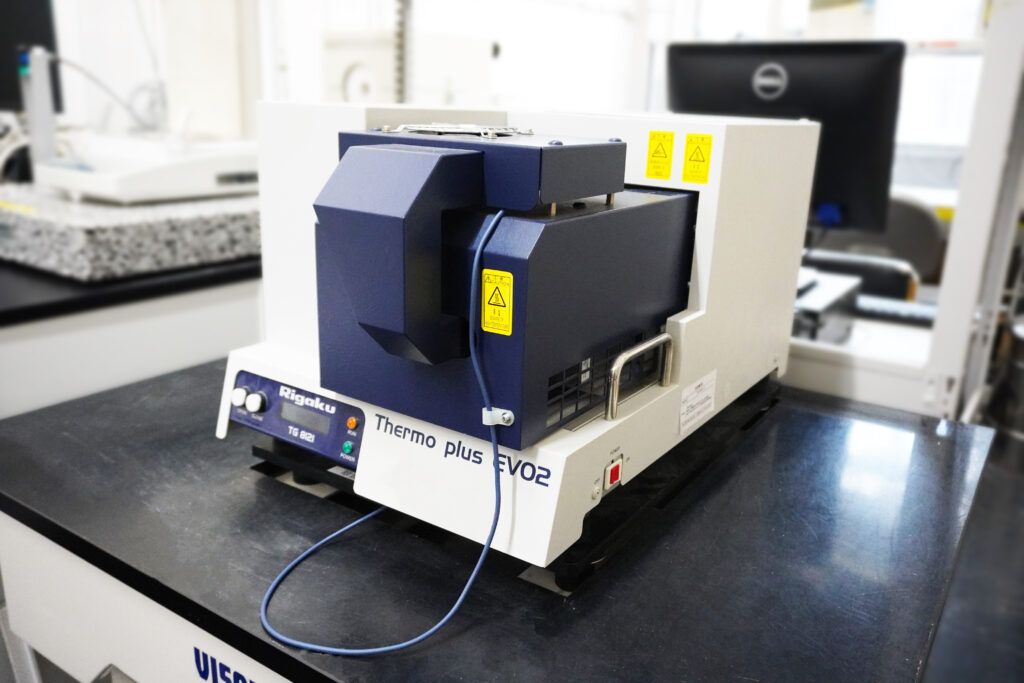 ---
Simulations
Workstation for Simulations
Dassault Systèmes SE BIOVIA Materials Studio
Gaussian, Inc. Gaussian 16
Wavefunction, Inc. Spartan '08
Workstation for structure optimizations and various spectroscopic simulations of small molecule compounds.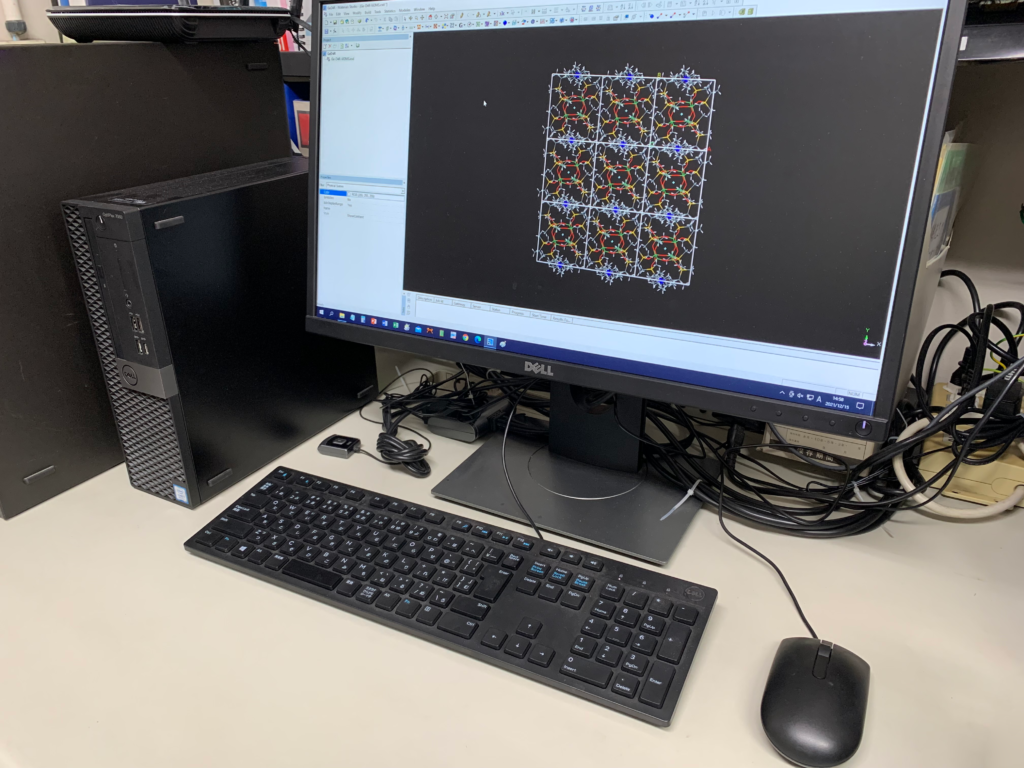 ---